In the third week of the PWBA season, I was actually able to sleep in my own bed and compete, as the PWBA Tour traveled to Fountain Bowl in Fountain Valley, CA for the PWBA Fountain Valley Open.
Prior to the tournament, I invited some of the bowlers over for a fun little get-together at my house. It was nice to get to know some of the ladies a bit more off the lanes. Everyone seemed to have a great time.
This week, I also had a few of the ladies stay at my house for the tournament – Danielle McEwan, Tannya Roumimper and Jodi Woessner.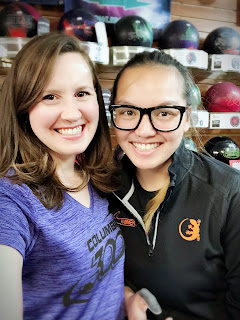 So funny side story…every morning my husband Drew got up early to make us breakfast before we bowled, with the catch that we all had to make each cut. Well we all ended up making the top 32. Three out of the 4 made the top 12 and 2 of us made the final 4 stepladder finals. So I think Drew needs to cook breakfast for us every week!
This week, we bowled on a 46' pattern with 26mL using Current conditioner.
During qualifying, I struggled the first couple of games and was -45 after two games. I then moved a zone further inside and switched to my trusty Columbia 300 Oath and shot 246, 222, 225, 211, 243 and 223 to end up +125 overall and in 10th place.
n the Round of 32, I used my Track Paradox Black to shoot games of 242, 194, 254, 236, and 191. Then switched to my Hammer Rhodman Pearl and shot 210, 224 and 209 for +345 overall. This jumped me into 5th place. It took +205 to make the top 12, in which there was a tie between Diana Zavjalova and Liz Johnson. Liz ended up winning the one-game roll-off.
In the Round of 12, we bowled six more games before cutting to the top 4 stepladder finals. I used my Paradox Black and Rip'd Solid to shoot 236, 235, 226 and 228 which jumped me into 2nd place. Unfortunately, I hit a really tough pair and shot 172 dropping me down to 4th place going into the final game.
I knew everything was close for making the stepladder finals. Luckily I got lined up quick and made great shots early and shot 214 to maintain the 4th and final position for the stepladder finals.
This year, all of the events finish in the center we compete in. So with a little break, it was time to warm up for the LIVE XtraFrame stepladder finals.
I faced No. 3 seed and Team USA teammate Danielle McEwan in the first match. Rocio Restrepo was 2nd seed and Bryanna Cote was the tournament leader.
Due to how everyone played the lanes during practice, the pair got tricky in a hurry. I struggled to find a consistent line in the beginning of the game and switched to my Rip'd Solid and moved further inside to strike out for 202, but it was a little too late as I lost to Danielle's 220.
Although it's not the overall outcome I had hoped for, it was still a great week!
Words can't express how thankful I am for all of my family, friends, employees, students and fans that came out to cheer me on all week at the event! I loved hearing all of the clapping and seeing everyone! It was amazingly gratifying to be able to share the excitement of the tournament with everyone first hand.
Congratulations to Danielle McEwan for winning the tournament!